Applications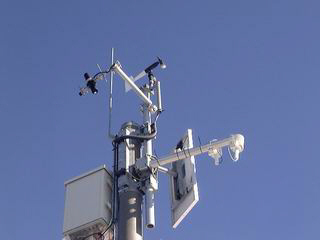 A physically correct and dependable measurement of meteorological and nivological parameters builds the basis for critical decisions and new knowledge. Our measuring and control systems that are specially optimized for remote locations and harsh environmental conditions are a proven starting point for successful solutions. The wide range of sensors and interfaces that can be connected and controlled by our systems, the well developed and standardized mechanical platforms, proven concepts for energy supply, overvoltage protection, communication and data acquisition allow for designs that are perfectly adapted to the problem.
See document: pdf24
Measurements and concepts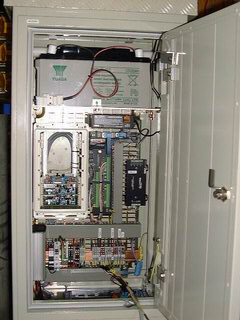 For successful measurements it is important to understand the physical principles of sensing as well as the processes to be characterized or investigated by the measurements. Our experience in the field of alpine natural danger allows us to find best suited solutions for your measuring problem. Our systems are based on Campbell Scientific data loggers and a large variety of specially adapted sensors and interfaces.
Mechanical supporting systems, towers.

We offer different supporting platforms depending on size and requirements of the measuring system to be mounted. The larger system based on a 6.5m long 219mm diameter pylon is anchored on 3 micropiles or rock anchors or may be directly mounted to vertical rock walls (pdf22). It includes a very compact and flexible platform for sensors, electronics, transmission antennas and the solar system that can be fitted to the tower completely assembled and in operation by helicopter within minutes but can also be lowered to ground level for local servicing. For smaller measuring systems with pylons up to 5m ( diameter 80mm) an universal anchor system is available (pdf13, pdf18). This portable anchor system is very flexible and can be mounted on rock or buried in softer or loose ground. No guying cables are needed for this system.
For both systems many standard clamps for sensors, panels, antenna, mounting arms exist. Special systems have also be designed for measurements on glaciers.
Standard systems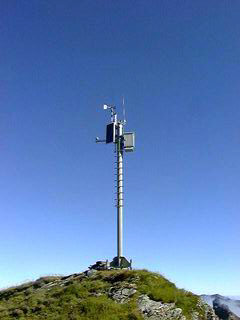 Automatic stations for weather-, snow-, avalanche-, ground temperature- and geophysical measurements.
219mm diameter, 6.5m high pylon with compact instrumentation package
designed for rough environmental conditions
data logging based on CSI loggers
wide range of standard and special sensors
energy supply: batteries, accumulators, solar cells, wind generator.
data transfer and control bi-directional: radio ( options 170Mhz to 2100MHz spread spectrum), GSM-data, fix line (land line) phone, Ethernet ( LAN / WAN), serial RS232, RS485, SDI, satellite...WEB-server.
standard basic software that includes most standard sensors, sensor quality parameter, easy adaptable to special conditions
modular design for fast mounting and servicing
See document: pdf22, pdf24, pdf31, pdf32
Mini stations
Automatic stations for weather-, snow-, avalanche-, ground temperature- and geophysical measurements.
80mm up to 5m pylon with universal AlpuG anchor system
Stations easily re-locatable
Standard configurations for snow drift measurements system FlowCaptTM( link ), Wind measurements incl. WindFlowTM, standard raingauge and RainFlowTM and ground wetness
Especially suited also for research systems
See document: pdf13
Warning and Alarm systems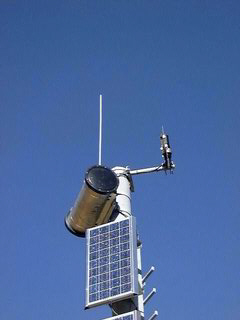 Standard systems for avalanches, rockfall, mudflow, rock movements, flooding, torrent warning (pdf22, pdf26)
Possibility of remote networks of detecting systems
Automatic warnings/alarms by phone, SMS, radio, computer network...
Automatic closure of traffic lines ( roads and railway lines) by signals, evacuation with sirens.
Continuous system control, self checks
Sensors / detecting systems: motion sensors, speed sensors ( Doppler radar), ground motion sensors, force sensors (detection cables, pressure plates...), air pressure, sediment / boulder sensors, extensometers, crack meters, acoustic emission ( crack formation), water level ( acoustic sounder, differential pressure), rain gauge, soil wetness... (pdf19, pdf26)
Alarming conditions: simple and combined multi stage conditions with respect to signal amplitude, frequency, event number, frequency spectra, signal duration etc. can be selected. All threshold parameters are remotely programmable.
Complete remote control
Signaling and Alarm transmitting systems
Setting, resetting, checking of signals, sirens...
Repeating, transmitting of alarms and data from remote detecting systems to users by phone ( voice and data), GSM, radio, signs, Ethernet.
Transmission of control and measuring data from and to a control center.
Remote control
Wind warning system for cable ways and traffic lines
Wind and weather measurements an towers of cable way and along traffic lines
Solar powered compact detecting systems
Packbus based data transmission with spread spectrum radios
Data presentation quasi real time and as time series
WEB server
See document: pdf30
Snow accumulation-, snow drift- and rain warning systems for road maintenance, ski areas and cross country track preparation
Phone, SMS, computer based...warnings in case of precipitation or snow drift
selectable warning and alarm thresholds and warning time
Options for many different weather-, road- and snow parameters
Options for data storage and data presentation
Research systems
Standard systems for permafrost borehole temperature measurements, Glacier energy balance measurements, gravitational speed spectra measurements, wind measurements, snow drift measurements.
Special systems suitable for any kind of weather, nivological and geophysical measurements
Avalanche- and mudflow speed measuring systems
Remote control systems
Controls for Wyssen Avalanche Tower and GAZEX (pdf27)
Development of remote controllers based on CSI - logger
Hardware and software developments
Remote GSM based or offline high resolution camera systems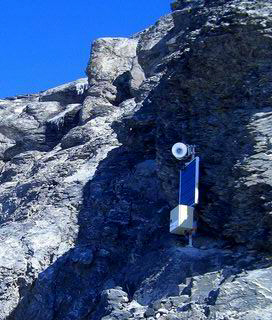 Systems for artificial avalanche release
See document: pdf27